Task Group Actions / Multiple Editing
Select and change several tasks at the same time.
What it does
This simple feature lets you select several tasks and edit them all with one action.
You can quickly re-assign groups of tasks between team members…
Move to a different list or project…
Change status and priorities…
Mark all as complete or delete…
Change start and end dates…
---
How it works
Simply click on the checkbox in the list header. This selcts all the tasks visible on the screen. Then use the "Select Action…" drop down.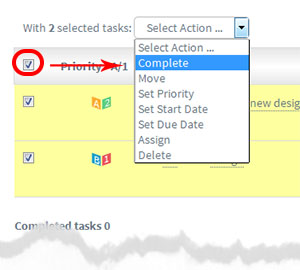 ---
Tips
Use the Task Screen Filters (see here) to narrow down the task groups you want to multiple edit.
You can also use your column header sorting to narrow down the task you want
For example Click on the header "Date" to select all the overdue tasks overdue and change their due dates… and so on.