Color Themes / Making it match your logo
You can adjust the color of your Dooster app so that it better represents your business / brand.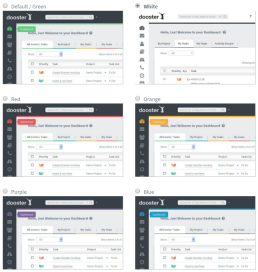 This changes the top header, the buttons and various other features in the app, like the date pickers.
You can use this to match your own logo – see how to upload your own logo to dooster here
It is also very useful if you decide to embed dooster into your own website and effectively white label it – so it looks like your own inhouse tool.
---
NOTE: You can also have a special color for individual projects.
This is useful if you have more than one client with logos that need a different background in order to look professional. (Set this in the Project Options screen).
---
How to Select your Color Scheme
Open your account settings (use the tab in the top right of the screen)
Scroll down and select your preferred color