Dooster as a Simple CRM system

Dooster's Lightweight CRM system
Dooster offers a simple but surprisingly powerful CRM tool that integrates neatly with your tasks and projects.
The ability to add and edit on the fly, plus the reminders and the extensive overviews of what's due to be done by who – and when – can make your Dooster a great CRM system , for use by individuals or groups of varying sizes.
Simply make use of the "Contact Activities" and "Contact Notes"  Feature- see below
---
CONTACT ACTIVITIES and NOTES
---
1) Contact Activities
A Contact Activity is a useful way of creating a task associated with a contact.
For example; if the contact is a sales prospect you can set a date to call them.
You can use the various Overview screens to see this coming up in the pipeline, and which member of your team will be dealing with it.
---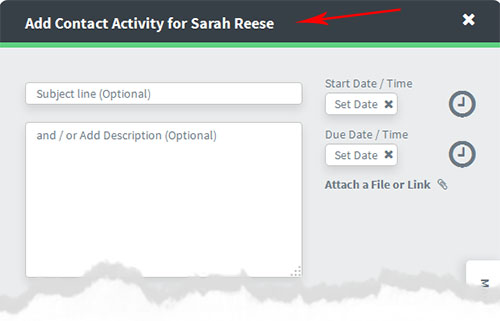 ---
Combine Activities with Sales Projects
For example: Let's say you are selling "Red Widgets".
You can quickly create a project: "Red Widget sales".
Link several Contact Activities for various contacts – who are prospective widget customers – to this"Red Widget sales" project.
These "Contact Activity Tasks" are now defacto Sales Leads
You can quickly move these between Task Lists you've created in the Project (in seconds), for example "Hot Prospects"… Call again and so on.
You get alerts when the Lead requires a call or other activity.
You can also use all the other benefits of Dooster tasks such as giving the Lead a priority, quickly re- assigning it to someone else in your team, and so on.
This gives you a powerful overview of what's going on.
It is very flexible and allows for easy but highly effective record keeping "on the fly".
Consider that many potential sales are lost through basic, poor record-keeping by Sales Teams. With Dooster your Sales people can quickly and easily amend notes there and then for easy referral at a later date.
---
PLUS
Every Contact Activity task has a direct link back to the contact – where you or your team can quickly update the Contact Notes… see all the other "activity tasks" associated with the contact… and quickly edit the Contact Profile.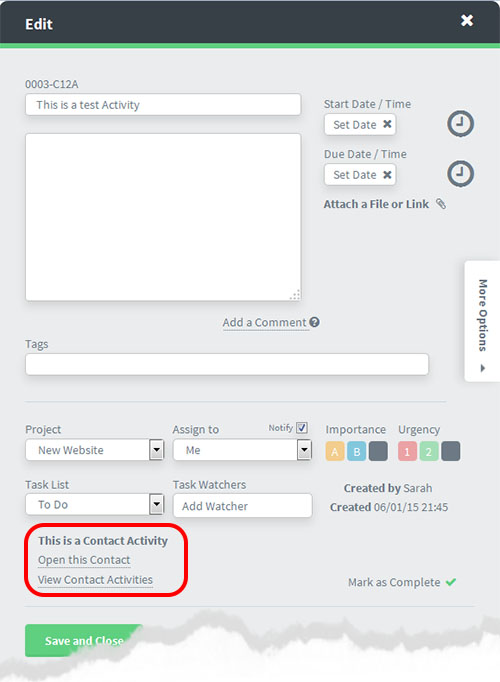 ---
2) CONTACT NOTES
These let you record useful information about a client: Information that is useful to know but not really an "activity" as such.
For example dates and notes of telephone calls. (NB You could also use the comments in the Activity task for this)
Even personal information to help your sales people – names of their children etc.
To access contact notes click on their contact card – see image above.