Milestones
Milestones
Milestones are a way of marking out key stages in a project. They help to measure the "distance to travel" in a project.
Typically this would be the completion of a key deliverable, for example finishing a proposal, or a completing a high level review meeting.
These significant events usually require a set of tasks to achieve – ie a Task List (read more). This is why Dooster's milestones can be made up of one or several Task Lists.
---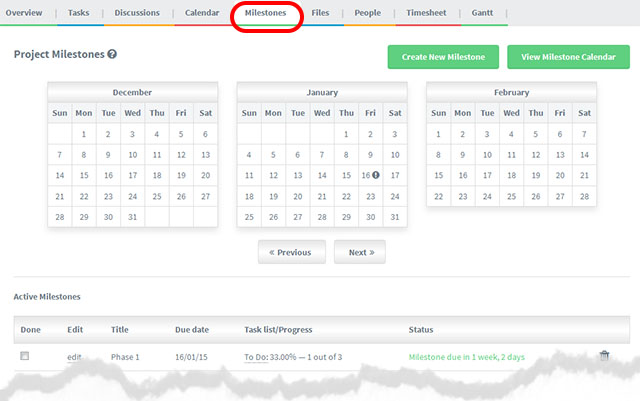 ---
How to create milestones.
Open a project and access the Milestone screen. (Use the tab at the top of the page in a project – see diagram below).

---
Then: Click on the "Create New Milestone" button.
In the resulting pop-up use the "Related to task list" drop down to select one or several Task Lists that you want to belong to the milestone.
Create a Due Date for the milestone and save it.
---
TIP
Combine several related Task Lists into one Milestone
You can add or remove lists from Milestones at any time
---
How to review your Milestones
The milestones are listed in each project in the Milestone screen (Use the tab at the top of the page in a project).
A progress bar shows you how things are progressing with each associated Task List.
---
You can see all your Milestones in one place by clicking on the "Milestones" button (on the side navigation).
In this screen there's a Milestone calendar
Note: You can also see your Milestone due dates in your standard tasks calendar (more info)
---
Who can see Milestones?
Milestones are only visible to members with Project Manger or higher permissions
The reason only a PM can see the Milestone is because
a) Milestones give an overview of a project which only a PM should have
b) Plus: Milestones comprise one or several tasks lists. You can drill down into the task lists from the milestone.
It wouldn't make sense if for example the Milestone says " 7 out of 10 done" yet the member can only view 3 tasks that they have permissions to see.
If you want a Team Members to be able to see the Milestones you should perhaps ask yourself why they aren't a PM and consider raising their access permissions accordingly
---
Please see the related article Using Milestones as a Reporting Tool / Aid (read on)
Simple project Milestones (see here)