Deleting your account
To delete / de-register your account; login to your account using your special account web address (see here)
(Use the "forgot password" procedure if necessary).
Then go to your "Account Settings" (The link is at top right of the screen. If you see the "account has expired" page – don't worry. Please see NOTE 3 below)
When in account settings use the Delete My Account section.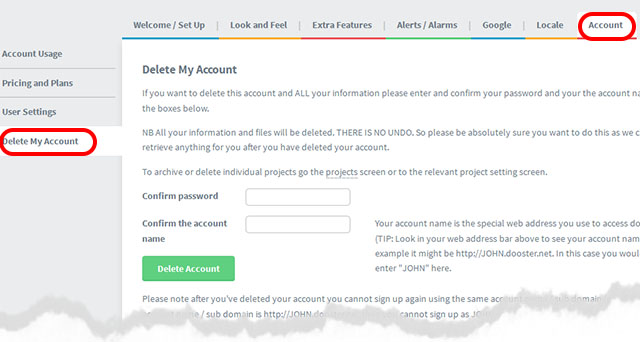 ---
NOTE 1
Only the account owner can delete the account.
If you're a Team Member you won't see the delete account tab – in the image above.
AND you cannot delete the account during your Free Trial period – even as the owner. (You can delete your projects / tasks instead and leave a blank account).
In this case either contact the account owner and ask them to remove you.
OR you could simply change your email address to a fake one. This will stop any notifications being sent to you and effectively remove you from the account.
(To change your email address simply open your User Profile (click on your user name in any screen)).
---
NOTE 2
We will not delete your account for you. Only you can delete your account.
Why? Well one good reason is that we don't want to be tricked into deleting it by someone else. This almost happened once – and once was enough. So you have to take full responsibility for closing your own account.
---
NOTE 3
If your account has expired you will see a special notice.
Simply click on the link in the line "You are currently using 1 to 15 Projects for $9.97 / month (You can adjust it here)".
Clicking on adjust it here opens your account settings' page
When in account settings use the Delete My Account section.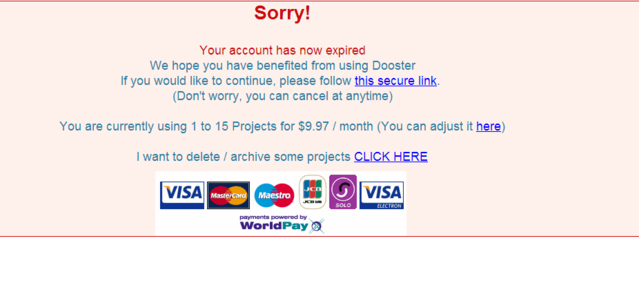 ---
NOTE 4
If you are paying for your Dooster account you must cancel your card payments independently. This is a separate action to deleting your account Read more
---
Related: My account has expired but I am getting the Daily Update alerts (read here)