Want to refer a friend?
Interested in earning extra revenue?
Here's how you can get credited for any sales that result from your using Dooster - or recommending it to people - directly or indirectly.
Becoming an Dooster Affinity Partner is easy
If you want to earn more money by actively promoting Dooster to businesses, schools or local groups and others, we show you how (No prior knowledge is required).
How does it work?
A) You refer people to Dooster using your special partner link
B) For anyone who signs up for any of our paid plans - at anytime in the future - you will earn a significant percentage of their ongoing monthly payments.
How much can I earn
Short answer : Potentially a lot !
Dooster's partner program is the best in this market. It pays out much more than any similar tool.
You will get 25% of whatever people pay. All they need to do is sign up via you.
"Via you" means either:
... simply inviting them into your Dooster. (If they sign up for their own Dooster account later on you will be automatically credited as the referrer).
Or you can send them a direct link to Dooster. This will have hidden code that also automatically credits you.
You will get your share for as long as they pay.
Please note that almost all similar partner programs have a time limit of 30 or 90 days for your special referral link. If your contact signs up after this you don't get paid.
Dooster is different. If anyone who has found Dooster via you starts paying within one year you will be credited as the referrer.
When am I paid?
Dooster charges monthly and you will be paid monthly.
Please note that you first have to register as a Dooster Affinity Partner in order to participate.
There is a minimum payout of $20 / month. If you earn less the total accumulates. As soon as you are owed more than $20 in any month you get paid.
You will be paid in arrears - eg if your friend pays in January. You get your share in February.
How will I get my money?
Different partner programs offer various payment options such as sending you a check, paying you via Pay Pal, Epassporte or Wire Transfer. (There are some others, but much less common).
We pay you via Pay Pal.
To accept money via Pay Pal you simply tell us your Pay Pal email address and we will send your money every month.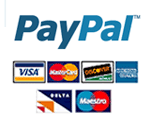 A Pay Pal account is very simple to set up. We can help you to do this.
(Please note that we don't send out cheques because our partners are spread over many different countries which don't all accept UK cheques).
How much work do I have to do?
You can either do very little or you can market Dooster actively. The choice is yours.
Option 1: Doing very little
Simply contact us to sign up to the affiliate programme. This automatically assigns your account with an affiliate tracking link.
Then simply use Dooster in your normal course of business and you will be automatically credited as the referring party if anyone signs up to Dooster using your link.
For example
You might invite people into your Dooster team. If they like what they see and go on to sign up for their own Dooster account. You will be credited with that "referral."
Or you might be using Dooster to manage a third party - eg a client or a supplier. This means they will get notification emails going out to them. Plus reminders.
They might well be intrigued by the mentions of "priority levels" and "Due dates" in these emails. If they follow the link to Dooster.net in each email and go on to sign up - any time in the next year - you will be credited as the referrer.
Please note that you first have to register as a Dooster partner in order to participate.
Option 2: Take some action
Taking action can range from a very simple and quick forwarding of one of our "have you heard about this tool? " messages to your email address book, or social media contacts...
... to doing special techniques that are used by our professional partners to make themselves a lot of money.
There's a range of these starting from relatively easy / quick methods - which could repay your basic effort many times over.
We have prepared many easy to use, highly effective resources to help you. Things like ready made articles, banner ads and "cookie cutter" email templates. All you have to do is personalize them ie add your name !
You don't need any experience at all to start doing these. We explain everything on a simple step-by-step basis and assume no prior knowledge. (All you need is a basic computer knowledge and an internet connection !)
Any Questions? Please contact us
Entrepreneurs & Online Business Leaders Trust Dooster
What are You Waiting For?
Start managing your tasks and projects today!
Start Managing Your Projects Just a few Minutes From Now